Last month, the High-Tech Gründerfonds (HTGF) has invested €1 million euros in the Berlin startup Datarade.
The company is developing a platform that allows firms to compare and contact more than 1,500 data providers worldwide.
Founded in 2018 by Thani Shamsi, Florian Rösler and Richard Hoffmann, Datarade said it will use the new funds to expand its team further.
According to its website, the startup's mission would be to "create more transparency in the global data market by building smart software that enables the frictionless global trade of data".
Talking to Outside Insight, Ekku Leivonen, Marketing Manager at Datarade said the startup's work is quite unique as Datarade "don't own the data, we're merely matchmaking".
When asked why he thinks the investors believed in Datarade, Leivonen said that: "perhaps they thought that's the direction the market should go towards."
Alternative Data on the Rise
And in fact, the HTGF investment in Datarade is not an isolated event. On the contrary, it is a clear signal of the continued rise of alternative data. Supply and demand are increasing on a regular basis, and the figures showed by Amazon are tangible proof of this.
Earlier this month, the tech giant brought third-party data access to its AWS data marketplace, and its revenue has skyrocketed since.
This trend is also shown by substantial investments in alternative data start-ups. To mention a few, Quandl was acquired by NASDAQ in December last year, Neudata raised $1 million in July and Eagle Alpha €2.1 million just one month after.
But what is the reason behind this increase in alternative data investments?
The Core of Big Data Investments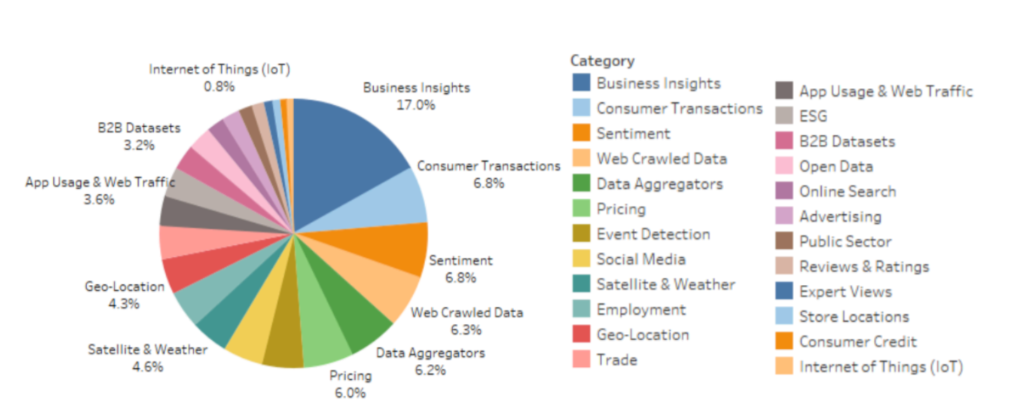 According to a dadoX.io report provided to Outside Insight by Antonio Serrano, at the core of the Big Data transformation in investment management would be "the new sources of data that can provide informational advantages."
These would consist of uncovering information not usually indexed in traditional sources, or to uncover it ahead of the competition.
For example, the report suggests, "satellite imagery of mines or agricultural land can reveal supply disruptions before they are broadly reported in the news or official reports."
Using data from Eagle Alpha, the document also points out the main trends in alternative data usage:
Business Insights. These are datasets providing a unique insight into companies, such as datasets tracking intercorporate business connections or natural language processing algorithms applied to corporate communication text data.
Consumer Transactions. This data can come from different sources and can provide merchant level transaction data, product-level purchase, and macro-level data. An example of this would be credit card transaction data.
Sentiment. Analyzing news feeds and social media posts by sentiment and novelty can be used to gather insight on investor commentary, consumer attitudes in regards to products and brands, or mainstream news feeds. These datasets can be applied to factor models or used ad hoc in momentum and contrarian trading strategies.
The Future of Alternative Data
It is increasingly clear that more and more companies are now leveraging the power of alternative data to grow and optimize their companies' results.
"External data is more and more important because of competitors," Leivonen explained. "It's a snowball effect."
Datarade does not own the data on their servers but merely acts as an intermediary. It creates an online marketplace that sees buyers and sellers connect and conclude transactions on the site.
Leivonen said the company's ultimate goal is to become the largest external data matchmaking platform in the world.
However, with tech-giants like Amazon bringing third-party data access to its AWS marketplace, the future looks pretty competitive for alternative data start-ups.
What do you think about this trend and where do you think alt-data investments will focus more in the future?