The UK would be spending increasingly more in cyber security investment, according to new figures from Specops Software.
The security firm analysed statistics from Gov.uk and published data reporting how 1,091 UK firms from a range of sectors have invested in cyber security between April 2018 and November 2019.
The overall number of investments in Cybersecurity has increased sharply compared to data from 2017-18, but looking at individual figures, the growth has not been uniform.
Finance and Insurance
Perhaps unsurprisingly, finance and insurance firms have invested the most on cyber security in 2018-19, at an average of £22,050. This would be a 23% increase from the previous year.
The financial services industry represents cybercriminals' favourite hunting grounds, with bank account fraud being at the top of the most common forms of financial cybercrime in the UK. It is estimated that, just in 2016 over 2 million cases which cost consumers £8 billion.
More recently, the UK has suffered substantially at the hands of cyber criminals, who targeted banks such HSBC and Lloyds Banking Group in 2017.
Shortly before that, during his Autumn speech, UK Chancellor Phillip Hammond had announced a five-year, £1.9 billion scheme to help prevent cybercrime.
Health and Social Work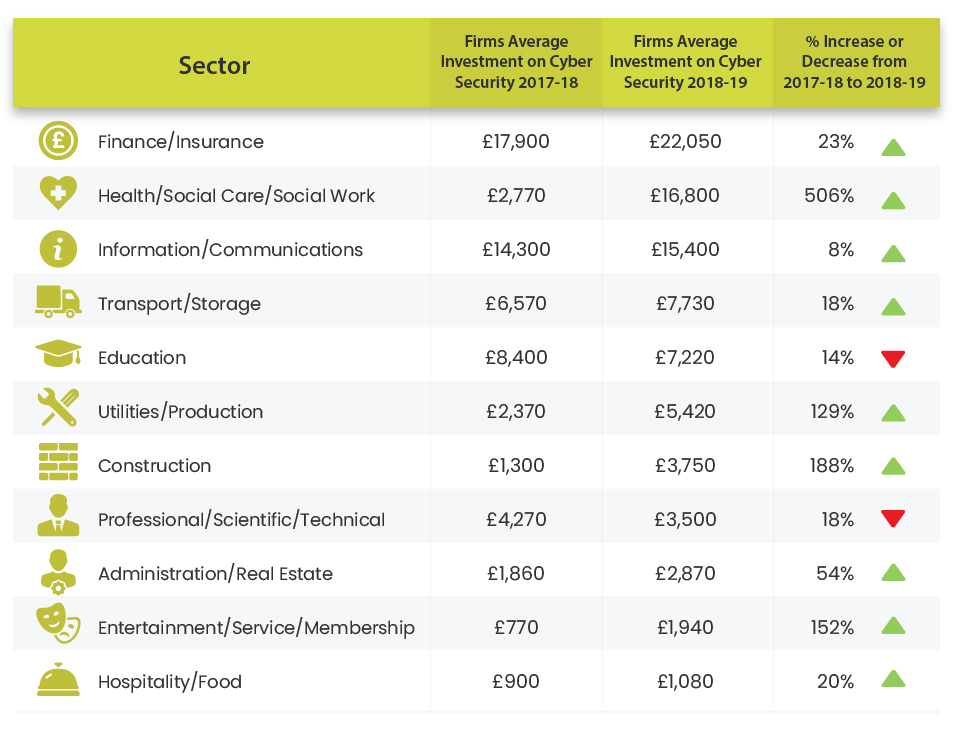 According to the new data from Specops Software, the second biggest share and the sharpest growth of investments in cybersecurity came from businesses in health, social care and social work. A total of £16,800 with an increase of 506% compared to 2017-18.
Such a steep surge can be possibly connected to the fact that it is becoming increasingly clear that cybersecurity is a real risk factor in health care data.
Figures from the Becker's Hospital Review in 2016 showed data breaches cost the global health care industry approximately $5.6 billion every year, with an average of at least one health data breach per day and more than 27 million patients affected.
As organizations try to protect their patient information from these growing threats, it is then reasonable to think they will spend more in hiring professionals who are familiar with the current state of cybersecurity in healthcare.
Education
On the other hand, figures related to investing in cybersecurity in education show the sector going down by 14%.
This decrease may come as a surprise, as in 2014, 10 per cent of all reported security breaches involved the education sector, according to the Symantec's Internet Security Threat Report.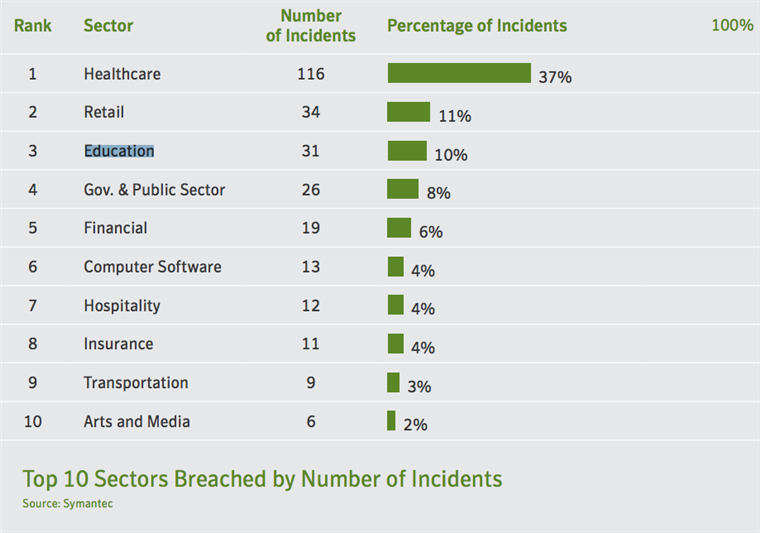 More recently University College London, one of the world's leading universities, had also been the victim of a major cyber-attack.
While this trend  is proving to be dangerous for universities, it would seem the education sector in the UK has not realised this fully, as the new data shows.
The Future of Cybersecurity Investments
Earlier this month, one of the most prolific targets for cyberattackers was the Labour Party – which suffered two large-scale attacks in two days.
"As cyber-attacks/breaches become more frequent and complex, cyber-security has to be a high priority for firms," said Darren James, a Cyber Security Expert from Specops Software.
"Otherwise they face the huge risk of leaving their website and digital communication platforms exposed to devastating cyber-attacks/breaches."
James explains how key decision makers need to carefully understand and manage their online eco-system to ensure it consistently has the defenses in place to protect against varying cyber threats.
"In addition to this, education as well as governance on cyber security for employees can play an essential role in protecting critical functions from being targeted/compromised," James concluded.
What do you think of these figures, and in which sector do you think the UK should invest more to protect itself from cyberattacks? Let us know in the comment section down below.